Back to blog
Howard Edwards Wows Regions, CBRE in Georgia
Contributed by Sheryl Perlstein
Last month, Howard Edwards was tasked with a floor care project at a Regions Bank branch location. Howard handled the project, which included tile cleaning and carpet extraction, so well that Regions took notice. The Branch Manager reached out to him to personally thank him for the great job he did. She said:
"Hello Howard, I wish to commend you on the great job that was recently done on our carpets and tile here in the bank. I appreciate your prompt attention to this after I submitted the request and I also appreciate that you followed up with me by telephone to make sure the job met my approval and expectations. You and your team are doing a great job each time you are here in my bank and it is noticed and I thank you. -Juanita"
This isn't the first time that Howard has stepped up for Diversified. In fact, Howard has been a rock star since he joined the company in September 2018. He has taken the initiative to upsell his customers on extra work, and even started handling work that we previously had to subcontract. Howard has been so successful that during the past 45 days he has self-generated nearly $9k in additional work orders – and he is just getting started!
Howard works tirelessly at growing relationships with everyone he comes in contact with, building trust with his customers and exceeding their expectations. Some happy customers that Howard has helped recently, in addition to Regions, include Honeywell, the FAA, and Nissan. Howard has proven himself to be a valued and trusted team member, and we sincerely thank him for all his hard work!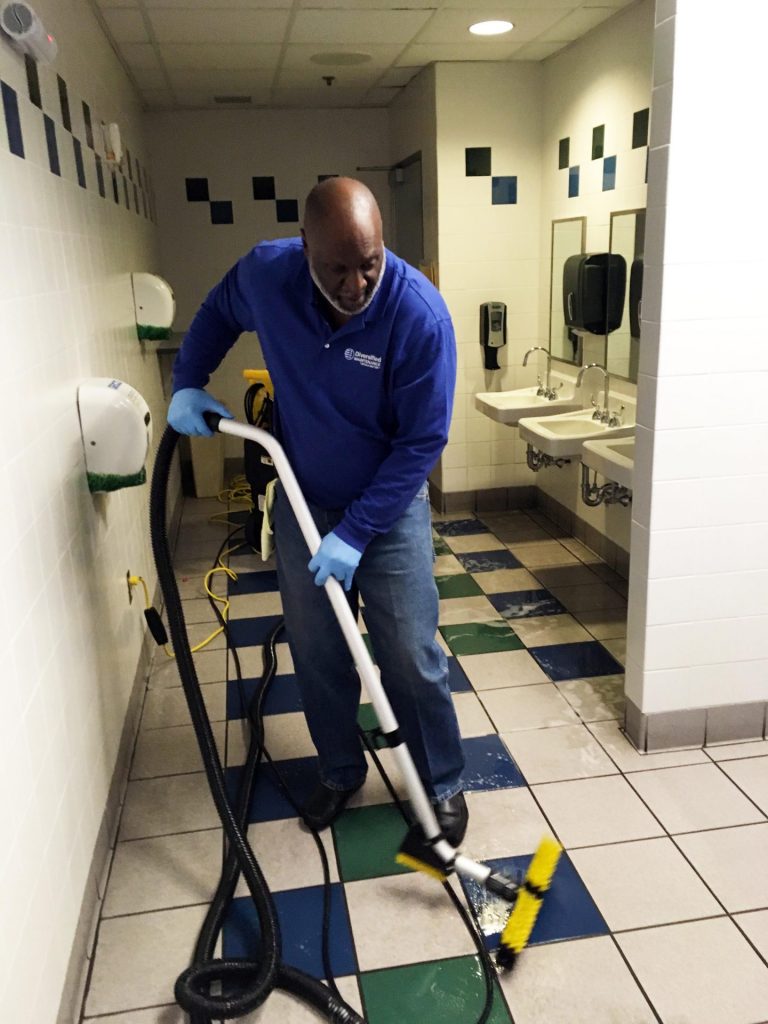 ↑ Howard in action making tile shine like new!